MA in Spanish
Phone: (575) 646-3408
Website: https://langling.nmsu.edu
Department Office Location: Breland Hall 222
Graduate Director: 
             Dr. Jeff Longwell – email: jelongwe@nmsu.edu
Graduate Committee:
             Dr. Kate Bove, Ph.D. – email: kpbove@nmsu.edu
             Dr. Spencer Herrera, Ph.D. – email: spencer@nmsu.edu
             Dr. Patricia MacGregor-Mendoza, Ph.D. – email: pmacgreg@nmsu.edu
             Dr. Gabriela Moreno, Ph.D. – email: gamoreno@nmsu.edu
             Dr. Mark Waltermire, Ph.D. – email: markw@nmsu.edu
Dr. Rodrigo Figueroa Obregón, Ph.D. - email: rodrigof@nmsu.edu
Dr. Héctor Iglesias Pascual, Ph.D. - email: hectorip@nmsu.edu
¿De dónde somos?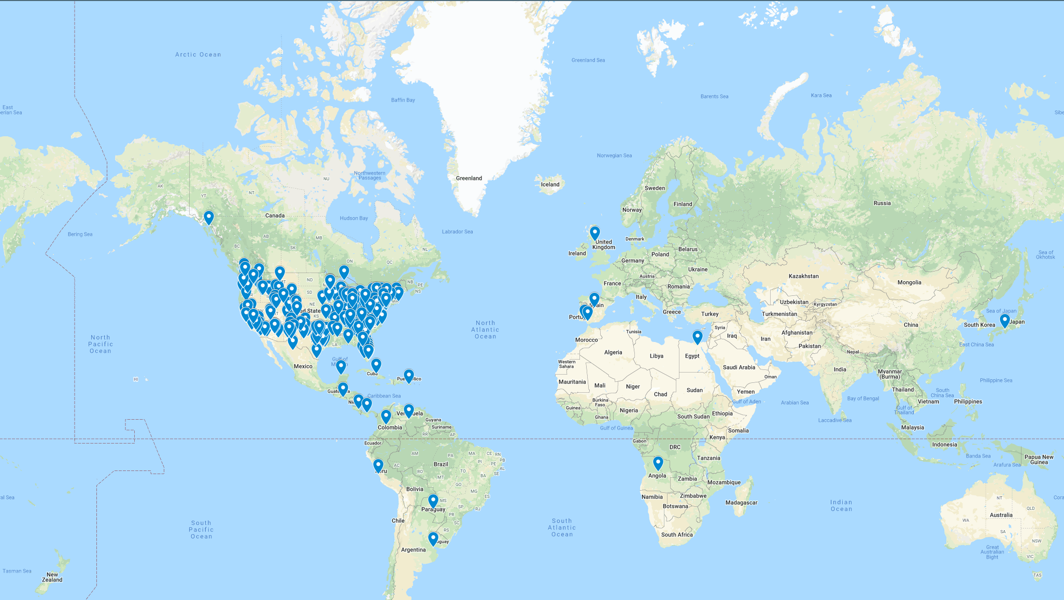 ---
DEGREE: Master of Arts
MAJOR: Spanish
MINOR: Spanish
---
The Department of Languages and Linguistics offers a Master of Arts in Spanish, which may be completed through our program on the main campus or completely online. Students are asked to specialize in either linguistics or literature. For non-thesis students, a specialization consists of a minimum of 27 credit hours, for thesis students, a specialization consists of a minimum of 24. A total of 36 credits is required for the degree.
---
Graduate Assistantships
For the on-campus program only, the department awards graduate assistantships to qualified students. For this financial assistance, the student works up to 20 hours a week in departmental programs, chiefly in the teaching of elementary and intermediate Spanish courses in either the Heritage Language sequence or Spanish as a second Language sequence. Students interested in being considered for an assistantship should clearly state this interest in their introduction letter during the application process. The department offers a limited number of assistantships, and students should remember that not everyone that applies for this award receives one. Maintaining the award depends on the student's successful performance both academically and in the classes he/she teaches and is evaluated on a semester-by-semester basis. Students who receive an assistantship are required to take SPAN 594 and SPAN 597 (see course descriptions) as part of their degree plan in order to help them prepare for teaching classes at NMSU.
---